Inspired Dining In The Heart Of Sioux Falls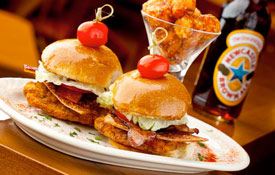 The New Choice for Sioux Falls Restaurants...
Fresh, authentic ingredients. A creative chef. A casual, contemporary ambience. And one of the most inspired dining experiences around. You'll savor every moment at Grille 26, where flavorful, affordable creations like flame roasted pizza, G26 burgers and steak, chicken and seafood entrees make an everyday occasion feel like something special. Come as you are for lunch, dinner or our Sunday morning features.
Grille 26 also features a full lively bar and one of the most insane happy hours in town.
Lighten Up
The Grille 26 menu focuses on the flavor and essence of each fresh ingredient, where nothing is artificial or fake. Just 100% yum.
Get Happy
Get deliriously happy from 4-6pm and 9-11pm. We've got half price pizza, plus great appetizer and drink specials available in the bar. Tuesday is Ladies' Night, and boy do we love our ladies.
---