WE ARE FAMOUS FOR CARVING MEAT AT YOUR TABLE, NON STOP.
Since we fired up our rotisseries in 2005, we have been perfecting the craft of serving meat to our guests using traditional Southern Brazilian roasting & serving techniques.
Rodizio service is the type of service we offer at Carnaval. Originating in Southern Brazil, most notably in the state of Rio Grande do Sul, Gauchos serving meat & carving their meats table side has grown to become Americas favorite way to enjoy the excellent cuts of Beef, Pork, Chicken & Lamb that we offer.
Guests visiting Carnaval Brazilian Grill start off by helping themselves to our Seasonal Fresh Salad Bar & Brazilian Style Hot Bar. A popular item on our Hot Bar is Feijoada, the national dish of Brazil, which is a time taking stew of black beans & meat served traditionally with rice.
Afterwards you turn a token on your table to show the green side, which signals our Gaucho Chefs that you are ready for meat service! To take a break for a moment turn your token back to red, then back to green to get more meat service. Keep doing that until you've tried every skewer!
SAÚDE!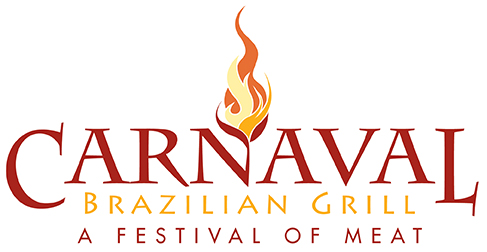 ---