TECHNOLOGY SIMPLIFIED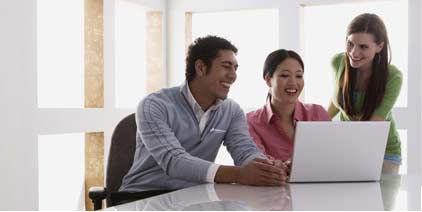 We've all been there: One minute you're typing away on your computer and the next your entire network has crashed, your printer has jammed and you've spilt coffee on your favorite tie. Technology is wonderful when it works – but it can be a productivity-sucking, piece-of-junk headache when it doesn't. Let Workplace IT Managed Services make your life easier.
WHO IS WORKPLACE?
The Workplace I.T. Management is a business technology solutions firm (that's just a fancy way of saying we love any and all things tech). In fact, we live for technology and all of the opportunities and challenges that come along with it. So what exactly do we do?
ON TOP OF TECHNOLOGY SINCE 1997
We're a business technology solutions firm (a fancy way of saying we love any and all things tech). We love networks and we love network monitoring. We get over-the-top excited about data security and cloud data management. And don't even get us started on how much we love stopping viruses, ransomware and malware dead in their tracks.
We've been providing our special brand of technology expertise since 1997. Since then, we've grown by providing data and managed network solutions to a wide variety of organizations in both the public and private sectors. Whether it's proactive network monitoring and maintenance, virus protection or firewall protection services, WTC has you covered. Best of all, we do it all for a convenient flat rate.
GET BETTER BUSINESS IT SUPPORT
FIXED-FEE AND WORRY-FREE
Even a small business can have big tech issues! Count on Workplace I.T. Management for responsive, reliable computer support and data security. Our full range of IT managed services include:
Computer Repair
Cloud Data Management
Data Backup and Management
Desktop Computer Support (remote and on-site)
Firewall Protection Services and Management
Full-time Network Connectivity
Fully-staffed Help Desk Service and Support
Microsoft Office 365 Solutions and Services
Network Monitoring, Support and Administration
Ransomware and Malware Protection
Remote Network Administration
Remote User Administration
Virus Protection and Management
FIXED-FEE NETWORK CONSULTING
Your network is the backbone of your business. Keep it safe, secure and efficient with a fixed-fee, proactive Management Service Provider (MSP) solution from Workplace IT. Our staff of experts keeps your I.T. system healthy by using advanced tools and measured, daily proactive maintenance routines to monitor, identify and resolve any issues early. On top of that, you also get access to the fully staffed Help Desk at our Network Operations Center. Contact us today to put the Evolved Approach to work for you, for one flat fee.

---