Home Away From Home
Apple Tree Children's Centers believe a warm and caring home with loving parents is the best place for children; however we also understand the hectic schedules families face, often with both parents working, and multiple children with numerous activities. Apple Tree strives to create and maintain an environment as close as possible to that of the home. Apple Tree considers the physical, psychological, emotional, and developmental needs of the children entrusted to its care in the design of facilities and programs as well as staffing and supervision. We want to be their "Home Away from Home."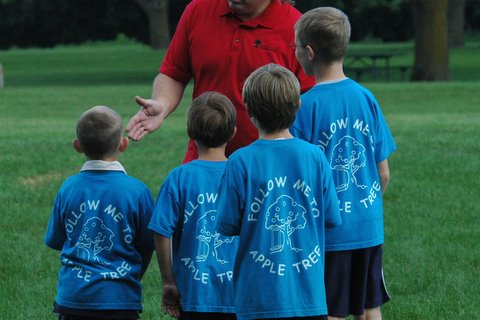 Our programs are designed to support the needs of children ages 4 weeks to 11 years, giving them a strong start to develop to their fullest potential.
Our Infant and Toddler program is more than just daycare. Your baby will experience an environment that invites exploration, celebrates each milestone, and supports their exciting progression through babyhood. Each infant program is designed for babies while keeping parents in mind, all parents wonder how their infant has been cared for throughout the day. Through our daily communications you'll know just what excited, delighted, and comforted your child that day. From bottle to nap times, to songs we sang and more, we love to show and tell your child's experiences through daily communications: regular phone calls, conferences, and e-mails.
Studies show that preschool provides a strong foundation for children to develop the knowledge, skills and confidence to become a successful learner. You will find that our preschool program accomplishes these goals with a nationally accredited preschool program implemented by a trained and educated staff in a safe caring environment.
After School and Out of School care - Apple Tree knows the growing physical, intellectual, and social competence of the increasingly independent school-age child. School-age children are looking to expand socially and academically while experiencing their world; 6- to 12-year-olds seek new challenges, close friendships, and increasing responsibilities.
Our program offers enriching learning opportunities in a fun and safe environment for maturing school-age children. This includes before-school and after-school care, back-up care for school holidays and closings, and exciting summer day camp programs for children up to age 12.
We welcome you to come out anytime to take a tour of any one of our four centers. When you arrive at Apple Tree, you will notice right away our secured entrances, uniformed staff, and spacious facilities all designed specifically with children in mind. We have large playgrounds, challenging lesson plans based on the South Dakota Early Learning Guidelines, numerous field trip opportunities, nurturing staff and clean facilities.
We are open Monday through Friday from 6:30 am to 6:30 pm and offer an open door policy in which parents are welcome to visit at any time during the day.
---