From Concept to Design, Roofing to Flooring, We've got you covered.
Community Home & Garden Center-Open 7 days a week. From concept to design, delivery to installation, HBC is here to assist with every phase of your project.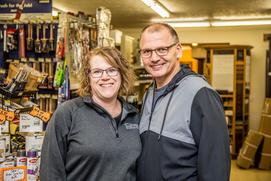 Locally owned and operated, Hartford Building center is proud to offer quality hometown service to all of its customers. From designing your dream home to painting a room, HBC has the quality products you need and the professional staff to help guide you along the way. Authorized dealer of Valspar and Pratt & Lambert brand paints. Newly expanded store in 2020 bringing to the community great selections to shop. Whether you are a D.I.Y. homeowner, or a professional contractor looking to grow and improve your business, Hartford Building Center is committed to providing you with the best products and services.
ABOUT US
Joe and Lisa Hellvig purchased Hartford Building Center in June of 2008. Lisa is a lifelong resident of the Hartford area, growing up on a farm just six miles north of town. Joe grew up in Watertown, SD and after his marriage to Lisa in 1988, they planted their roots in Hartford where they have raised their family of 3 children. Joe grew up learning about the construction industry from his dad, who worked construction his entire life. After attending school for design and drafting, he was always involved in the building industry; from designing and estimating, contracting, to retail and wholesale sales, he has worked pretty much every facet of the industry. He realized his dreams of owning his own home center when he and Lisa purchased Hartford Building Center in 2008. Unfortunately, in 2013, Joe began having some medical issues when he suffered his first stroke. In 2014 he suffered another major, permanently disabling stroke. Lisa and her oldest son Travis made the decision to continue the dream Joe had started and together continue to manage & grow the business. The Hellvig family feels blessed to be living in the wonderful community of Hartford and looks forward to growing the business to meet the needs of the community.
Services
Custom Project Designs / 3-D CADD System
Project Estimating
Paint Color Matching
Window & Screen Repairs
Key Cutting-Including Computer Chip Keys
Lock Rekeying
Equipment Rental
Professional Referrals
Special Orders
Gift Cards
Job Site Delivery
Design Services
Estimating
Key Cutting
Lock re-keying
Paint Color Matching
Professional Referrals
Window and Screen Repair
---