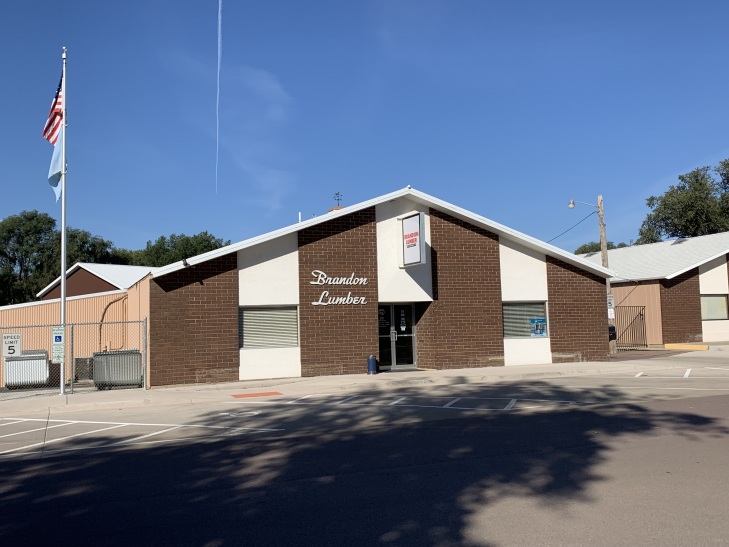 About Brandon Lumber Co., Inc.
Brandon Lumber Company was one of the first businesses in Brandon in 1878, and is the only business still operating at its original location. The triangular shaped lot was designed as a park on the original plot of the village.
Wendell and Betty Ames purchased Brandon Lumber Yard form Al Watke in Feb., 1967. Over the next few years, with all the family members helping, they were able to rebuild the buildings, purchase new equipment, and more employees were added. Ron, our oldest son, built houses for 12 years, then became the manager and does all the estimating at the lumber yard. Marcus, Ron's son, operates the boom truck and handles most of the deliveries and needs of the contractors. The lumber yard has four full time employees, plus the owners.
Wendell started in the lumber business in Redfield, SD in 1949 at Peavey Lumber Yard. Betty worked at the First National Bank in Redfield. In 1952, Uncle Sam called and after 2 years serving in the Army, Peavy Lumber sent them to Alpena, SD to manage a lumber yard for 13 years. Wendell and Betty have three grown children: Ron, Connie and Tim, 8 grandchildren and 7 great-grandchildren.
Services
We pride ourselves on our great delivery service. We have a top-of-the-line, seven-story, remote-controlled HIAB crane. We can put your materials on the roof, in the basement, or wherever you need them. We deliver building packages in the Brandon and Sioux Falls areas free of delivery charge.
We build lawn sheds and repair doors and windows in our shop. If we can't do the job, we will get you someone who can.
Call us today at 605-582-3252 for free estimates.
---