Get Your Roof Shingled In One Day With Sandia Roofing
ROOFING, SIDING, DECKS
Our Unique Crew
Sandia Roofing has one of the most unique shingling crews in the Sioux Falls area. Every shingler on the crew is either a college graduate or currently in college. Why does this matter? Sandia knows how to problem solve. They know how to treat customers. They know how to get the job done right and make sure your roof is secure. In addition to education, Sandia's crew is comprised of superb athletes, which means your roof is done in one day. Sandia's crew can withstand any weather conditions, long days, and tough roofs. Their "no quit" attitude makes them committed to getting the job done right and fast.
What sets Sandia Roofing apart?
We complete your roof in one day
50 year full warranty on all jobs (materials and labor)
Commitment to quality work
Professional, respectful crew
Putting the customers first
Expertise on material and technique
We recycle your old shingles
Our pledge is to completely finish or secure your roof at the end of the day, put on a quality roof with quality material, and stand behind what we do.Sandia Roofing has been in Sioux Falls for over 27 years and would like to be of service to you!Our roofing season runs from late April to early October.
Warranty:
50-year warranty on shingles and workmanship. This includes total replacement including materials, labor and disposal if the shingles are defective in any way. There is a 12-year transfer policy if you sell your house in that time period.
Estimate includes: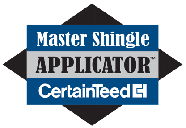 Removal of all existing shingles, roof vents, pipe boots, and underlayment.
Application of new #30 felt paper.
Application of 50-year CertainTeed Landmark Laminated Asphalt Shingles.
Shingles will be nailed, not stapled.
Installation of new pipe boots and roof vents.
Installation of new winter guard around edge of roof up to 6 feet.
Cleanup and disposal of all roofing debris around entire area.
Use of magnet to pick up nails from lawn and around work area.
Follow up the next day to do a final inspection around the ground and the roof.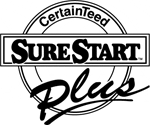 Our bid includes all the work from start to finish. The only thing you need to decide on is the shingle color. (Unless you want us to match your old roof color.) We will take care of everything else.
We use nothing but top quality materials: Landmark shingles, # 30 weight felt paper instead of 15 weight, ice and water shield up to six feet from gutter aprons. We also place it in the valleys where snow likes to accumulate in the winter.
We feel that it is worth your time to try to have us meet or beat your other estimates because our service and warranty is second best to none. Please call us with your other estimates – we would love a chance to secure your work.
You will have an estimate in 48 hours!!
---