Join us for your own "date night" dance very soon!
Date Night Dance Company offers social dance instruction in a fun, friendly and comfortable environment so you can easily learn to dance for your own enjoyment or that special occasion. Lessons in Ballroom, Latin, Swing and Country dances are taught in group classes, private lessons and in public dance sessions.
Date Night Dance teaches the following dances:
| | | | |
| --- | --- | --- | --- |
| Foxtrot | Cha Cha | Two-Step | Single Swing |
| Waltz | Salsa | Jitterbug | Triple Swing |
| Tango | Rumba | Polka | Nightclub 2-Step |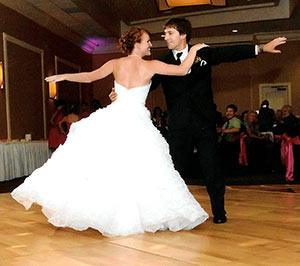 Private Lessons are available for singles, couples and small groups of couples. Private lessons are good for couples who want a more intimate setting for beginning or more advanced instruction or are unable to attend group classes. They are also perfect for couples wishing to dance for a special occasion such a first dance at a wedding. Private lessons are available by appointment two weekends a month.
Group Classes are great for beginner dancers and those who are working on mastering the beginning steps. Classes are one-time events offered one weekend a month. We do not change partners in group classes; you will dance the entire class with your own partner.
Large Group Sessions are perfect for any large group such as churches, civic or fraternal organizations or workplace groups that would like to plan a social event to include dance instruction. They also work well for wedding parties wanting dance instruction for family and friends before the big day. These sessions are available by appointment two weekends a month.
Open Dances are held once a month on weekend evenings, 8:30-10:00 pm. These dances, open to the public, are wonderful for practicing the moves you're learned in class or private lessons. They are also great for couples wanting to come in and check out what we do at Date Night Dance. Dances begin with a beginning lesson in a different dance each time and then a variety of music is played for different dances. The basic step to each dance is taught. There is no need to pre-register for our open dances.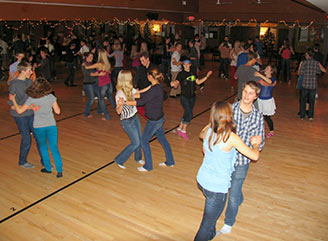 Teen Dances are held just prior to our adult open dances once a month, 6:45-8:15 pm. Each dance includes a lesson. The dance is mostly open dancing but we also include some line dances and dance mixers. The teen crowd switches partners throughout the dance. There is no need to pre-register for our teen dances.
Check our website for calendars and prices as well as descriptions of the dances offered at Date Night Dance. Is there a wedding in your future? Our "getting married?" page provides plenty of information and song suggestions for first dances as well as Father of the bride and Mother of the groom dances.
Join Date Night Dance Company for your own "Date Night" Dance very soon!
---