Gentle, Comprehensive Veterinary Care For The Life Of Your Pet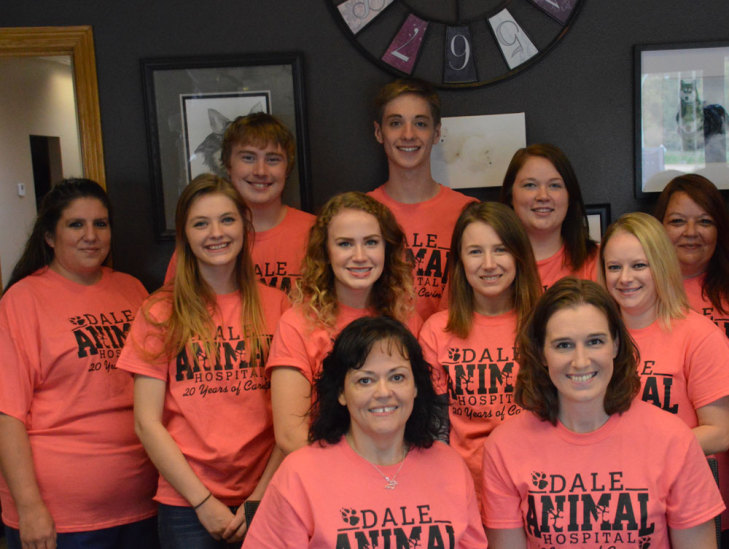 Dedication
Dale Animal Hospital is committed to providing excellent care for your pets. Dr. Dawn Dale, Dr. Laura Byl, and our entire staff strive to treat every pet as if they were our own. From the youngest kitten to a geriatric dog, we handle every animal with a tender spirit and kind touch. Our entire healthcare team is committed to providing personal attention to the unique concerns of each individual pet owner. We have taken our pets to Dale Animal Hospital for many, many years and we are continually amazed at the level of friendly, caring and compassionate service for both our pets and us! – Sherry M.
Comprehensive
At Dale Animal Hospital we strive to not only treat your pet when he or she isn't feeling well, but also to help you learn how to keep your best friend happy and healthy. Our services are numerous: wellness examinations, laboratory testing, radiology (x-rays), dentistry, surgery, EKG readings, dietary and behavioral counseling, and boarding services. Dr. Dale brings 16 years of ultrasound experience and Dr. Byl is certified in veterinary chiropractic care. The Drs. and Staff go above and beyond with their professionalism and knowledge to ensure our pets' health. I feel secure in knowing that our furry family members are treated with the best care available! – Lana B.
We perform thorough wellness exams and screening blood tests to catch changes before a disease may progress and shorten your pet's life. Dental x-rays are essential to providing the best possible care for your pet's mouth. Physical examinations of the mouth cannot reveal disease that is hiding under the gum line and inside the tooth. Digital x-rays allow us to diagnose and treat periodontal disease.
We know that anesthesia seems like a frightening concept for you and your pet. In order to ensure the safest outcome, we take extra precautions such as pre-anesthetic blood work, safest available anesthesia, modern anesthesia equipment and techniques, indwelling IV catheter, and pain medication.
Even as we work hard to keep our services affordable, we are proud of our recent remodel and expansion! Our comfortable waiting area and private consultation room will make your visits feel even more like home. Our new dental suite will provide the most current procedures and allow expanded cancer treatment options. The veterinarians at Dale Animal Hospital are exceptional. They are always available to answer questions and to handle any problems that might arise. I have shared tears of joy and sadness with them and have always felt that my animals are getting the best possible care at Dale Animal Hospital.
– Jean K.
Life
The most important thing a pet can have is an excellent quality of life. At Dale Animal Hospital everyone and every pet is treated with respect, from the veterinarians, techs, to the office staff. – Warren R.
The relationship between pets and their families is vital at Dale Animal Hospital. You feel the concern and love the minute you walk in, first from the office staff and then when you are with the doctors and their staff. Dr. Byl came in to treat our "Madeline" on her day off. Because of her devotion to the treatment and care of pets, our "Madeline" is alive and healthy today! – Roger and Peg C.
We believe your concerns are important and help us to keep your pet's best interests at heart. Dr. Dale's thoroughness, expertise, attention to detail and unprecedented follow-up is not only impressive but very appreciated as we too are happy pet owners. Dr. Dale and her clinic are and always will be our "best vet" in Sioux Falls and Sykes is her biggest fan! – Dr. Barry and Mary H.
Veterinary clinics care for animals…Dale Animal Hospital cares for families. The best decision I made for my canine family is trusting the staff of Dale Animal Hospital with the care of these precious puppies. – Mike and Mary N.
---