On Site Sharpening Service - We Come to You!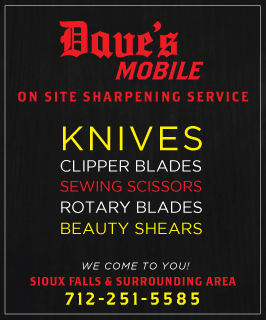 Mobile sharpening service in Northwest Iowa/Southeast South Dakota. I sharpen beauty shears, scissors , clipper blades, & knives.
Based in Sioux City, IA, I provide service to beauty salons, dog groomers and veterinarians. Sharpening services such as kitchen knives, dental equipment and sewing scissors is also available. Most scissors and shears are sharpened on site without ever leaving your salon. A substitue pair of shears will be provided if needed while I am sharpening yours. Clipper blades are picked up at your salon, sharpened and returned within 2-4 days. Clipper sharpening service is also provided via mail for those who live outside of my travel area. These clippers are returned to you in 7-10 days.
---