Nine Tiger Rock competitors bring home 24 medals!!
On July 11th, 12th, and 13th over 170 Tiger Rock Martial Arts academies came together in New Orleans for our World Championships. This is the largest event we have every year. School from around the world that are Tiger Rocks participate in the competition.
Our academy brought 9 competitors and out of the 9 competitors our academy brought back 24 medals, 9 gold, 7 silver and 8 bronze. The greatest accomplishment that we had there was that our instructor, Sr. 5th degree Shannon Donnell, was in the championship ring competing for first place against Sr. 5th degree Kevin Crutchfield. They have to spar and defend for two minutes and the one who reaches 7 points or has the highest score at the end of time wins. Shannon Donnell ended up a 1st place World Champion with a score of 6-5.
This was Donnell's first time in the finale. He is 40 and his opponent was 31. He is a great instructor at the Tiger Rock Martial Arts Academy in Sioux Falls and has been teaching lessons there since 2008.
There's no excuse not to start today!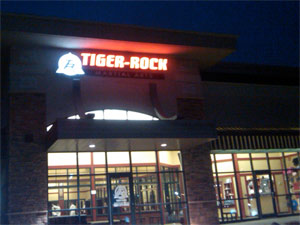 Tiger-Rock Martial Arts is a national franchising company providing health, skills and fitness training through its franchisees' Martial Arts programs for members of all ages. Our programs enrich their personal and professional lives in many ways. Tiger-Rock programs are a blend of modern sport science, the latest research, and hundreds of years of martial arts tradition to provide you with the most effective experience available.
At Tiger-Rock Martial Arts International, we fit your busy schedule and on-the-go lifestyle. With a diverse selection of classes and times there are no excuses not to start today. Our academies are geared up with the essential elements of a great training workout and our academy owners stay current with the latest training methods. We offer a wide variety of adult and youth programs to ensure that each participant gets the best experience possible.
As each Tiger-Rock Academy is independently owned and operated, we encourage you to contact the academy of your choice for specific pricing information. A visit to the academy will help you learn even more.
---