One of South Dakota's Largest Liquor Stores!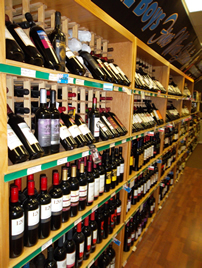 Over 1,000 Labels of Wine
Over 1,000 Labels of Liquor
Huge Import and Craft Beer Selection
Convenient Upfront Parking
Open 7 Days a week
Discount Prices on Cases of Wine & Liquor!
Drive-up window at both locations!
Two convenient locations with parking right in front of the store, the aisles are wide enough for shopping carts. A bright, clean store that makes it easy for you to find your favorite bottles of wine or spirit. With one of the area's largest selections of cold imported and craft beers, it is easy to find something for everyone. When it's time to stock up for a weekend tailgate, a house party or a bottle of wine for a romantic dinner, come to the place that will make your jaw drop and pop your eyes wide open.
Hours East Store
Monday – Thursday: 8am – 11pm
Friday & Saturday: 8am – 12am
Sunday: 11am – 7pm
Hours West Store
Monday – Thursday: 9am – 11pm
Friday & Saturday: 9am – 12am
Sunday: 11am – 7pm
---