Join Ben & Patty in the morning to joke, talk, laugh & cry
Thanks for making the KKRC Morning Show with Ben & Patty one of the Local Best in Sioux Falls!
We couldn't be happier playing Sioux Falls Greatest Hits again. All that awesome music we played while we were growing up in the radio business. Whoever said "You can't come home again," obviously hasn't listened to the New 97.3 KKRC!
We are so honored to be chosen among the Local Best in the Sioux Empire, once again! After spending almost 27 years hanging out in the morning, we certainly hope you'll continue on this new musical journey with us.
Thanks so much for letting us be part of your life all these years. And more importantly, thanks for putting up with us, well, mainly Ben and his inability to spell, or say words like "abominable" correctly.
Join us weekday mornings from 6 to 10 AM for Sioux Falls Greatest Hits, along with something we hope will help get your butt out of bed.
Thanks again for listening to the KKRC Morning Show with Ben & Patty!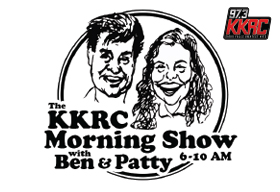 See ya in the morning on the 97.3 KKRC!
Ben
My name is Ben Davis. I am the "Ben" portion of the "Ben & Patty Show". Patty lets me do radio with her because sometimes I bring snacks and I can lift fairly heavy stuff. My interests include golf, camping, bacon, and the female anatomy. I have a beautiful wife and 2 great kids. Lot's of times they will even go out into public with me…as long as I pick up the tab. Oh and did I mention that I can cook too!? If I cook good stuff I've found that nice people will hang out with me. Valuable information. I can't promise that I will cook you good stuff but I sure wish you'd hang out with me…and Patty…week day mornings from 6am to 10am on the 97.3 KKRC!
Patty
I was born in Montana and lived in a beautiful place where so many things were lush and green, that they nicknamed it "the Emerald City." The colors there were brighter, the people shorter, the snow on the poppies - whiter. But everything wasn't easy growing up. You never knew when some evil witch would wiz by and try to steal the ruby slippers right off your feet. Flying monkeys could drop-in when you least expected them, barging in when you were showering or re-stuffing your scarecrow! My first job was singing with 'Lollipop Guild.' I tired of lederhosen pretty quickly and moved on to theatre, which is where Ben found me working as one of the foul-mouthed talking puppets in "Avenue Q". He promised me baked goods and my own Vespa scooter, if I'd come to work with him and that was almost 24 years ago…still no scooter.
---