Join Ben & Patty in the morning to joke, talk, laugh & cry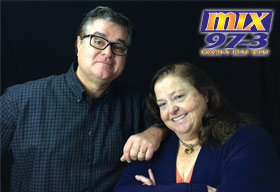 Wow! Let me try that again...WOW! We want to say a BIG thanks to all of the MIX 97-3 listeners! YOU ARE THE BEST! From everyone here on the BEN & PATTY SHOW, we are especially thankful for your kindness. We are so honored to have been voted one of The Local Best again this year by the people we respect the most...our listening family.
A really smart dude named Confucius once...or maybe twice...said "Choose a job you love, and you will never have to work a day in your life." Well, we have been blessed with the opportunity of doing the Ben & Patty Show for over 20 years now, and not one of those days has been work. We get to meet, joke, talk, laugh and cry with the best people this world has to offer...YOU, our MIX 97-3 listening family.
THANK YOU SO MUCH for inviting us into your lives and being a part of ours! If you ever need a hot cup of coffee, hot piece of pie, or someone to jump start your FORD F150, please, just call us...Patty will be right over!
See ya in the morning on the MIX!
Ben
My name is Ben Davis. I am the "Ben" portion of the "Ben & Patty Show". Patty lets me do radio with her because sometimes I bring snacks and I can lift fairly heavy stuff. My interests include golf, camping, bacon, and the female anatomy. I have a beautiful wife and 2 great kids. Lot's of times they will even go out into public with me…as long as I pick up the tab. Oh and did I mention that I can cook too!? If I cook good stuff I've found that nice people will hang out with me. Valuable information. I can't promise that I will cook you good stuff but I sure wish you'd hang out with me…and Patty…week day mornings from 6am to 10am on the MIX 97.3!
Patty
I was born in Montana and lived in a beautiful place where so many things were lush and green, that they nicknamed it "the Emerald City." The colors there were brighter, the people shorter, the snow on the poppies - whiter. But everything wasn't easy growing up. You never knew when some evil witch would wiz by and try to steal the ruby slippers right off your feet. Flying monkeys could drop-in when you least expected them, barging in when you were showering or re-stuffing your scarecrow! My first job was singing with 'Lollipop Guild.' I tired of lederhosen pretty quickly and moved on to theatre, which is where Ben found me working as one of the foul-mouthed talking puppets in "Avenue Q". He promised me baked goods and my own Vespa scooter, if I'd come to work with him and that was almost 24 years ago…still no scooter.
---