Get The Information & Products You Need For A Healthy Lifestyle!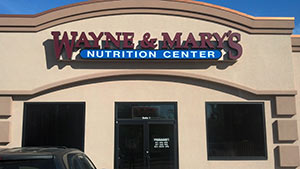 Founded in 1970, Wayne & Mary's is a place to come, learn, browse, exchange information and purchase the finest nutritional supplements and quality fresh, natural, organic and whole foods.
Wayne & Mary's provides the highest quality, most effective vitamins, minerals, herbs, homeopathic remedies, weight loss solutions, health and body care products, organic and natural foods in the Sioux Empire.
An extremely knowledgeable, experienced and helpful staff is available to answer questions. Whether you are looking for a single supplement or food item or want to make a major lifestyle change our staff can provide you with the product or information you need. We stay up to date on the latest research and new products.
Mail order service is available and we will special order any product we don't normally stock. Our 100% satisfaction guarantee insures you a pleasant, risk-free shopping experience at Wayne & Mary's.
---
"People that work there are knowledgeable friendly and willing to assist you in your needs I love to shop there"- Lisa D.
"We just stumbled upon this store driving through. What a gem! So many good finds."- Krista D.
"Had a great experience ordering over the phone today. Very knowledgeable caring staff!"- Megan A.
"Always so friendly, knowledgeable and its such a calming place to shop at. Love all the great choices in products."- Angelique V.
---