South Dakota's Largest Selection of Sports, Sportswear, and Footwear Under One Roof
Located on 41st and Western Avenue, SCHEELS entered Sioux Falls in 1977 and expanded in 2002, providing 100,000 square feet of retail shopping.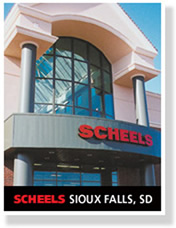 Sioux Falls' newest expansion, completed in May 2014, features a 200,000 square foot SCHEELS retail shopping experience. The store showcases South Dakota's largest selection of sports, sportswear, and footwear under one roof. Unlike a typical sporting goods store or department store, the expanded Sioux Falls SCHEELS has a collection of entertainment venues, as well as women's, men's, youth, specialty, and sport and game shops. Brand-name concept shops by Nike, Under Armour, Patagnoia, Carhartt and The North Face will keep you in style for any season. Each shop is staffed with experts who are passionate about their shop and finding the perfect items for your next adventure.
Special attractions include a 45 foot, 12 car operating Ferris Wheel, a shooting gallery, beautiful bronze statues, and simulators for everything from golf, to baseball, football, basketball, and hockey, where customers can test their skills. Gramma Ginna's, a deli and fudge shop, serves gourmet soups and sandwiches, Ginna's Coffee, and 24 flavors of homemade fudge. Mini Bowling, Buck Hunter Simulators and many more amenities make this shopping adventure unlike anything the Sioux Falls retail customer has ever experienced.
The SCHEELS in Sioux Falls features boutiques ranging from fashion and the latest athletic, yoga and sportswear to spectacular hunting and fishing shops. The athletic shoe, hiking boot, and casual footwear selection is the largest in South Dakota with everything for toddlers to expert climbers. Selections range from beach sandals to fashion boots. Outdoor enthusiasts can experience world-class shops including golf, bike, ski, whitewater, and sport and game shops. The gun and hunting shops have the largest retail selection of guns in the state of South Dakota, ranging from everyday shooters, to collectible guns.
SCHEELS stores offer a complete Service Shop with services ranging from bike repairs and skate sharpening to ski/board waxing and racquet stringing. Each SCHEELS store has an in-house service technician team to get your gear ready for the season. Our Barnett-certified technicians have received the best bike mechanic training in the industry.
Several shops feature Scheels Outfitters products. Since its conception in 1902, Scheels Outfitters, a premium brand of SCHEELS, has outfitted the outdoors enthusiast with everything from camping equipment to hunting clothing. Designed for field experts, by SCHEELS Experts, Scheels Outfitters is a premium brand that is exclusive to SCHEELS.
SCHEELS is an employee-owned company and provides the best training in retail for its career associates. The people are what make SCHEELS special and the associates are among the highest paid in retail, with outstanding benefits. SCHEELS also gives back to the local communities, donating more than 10% of its profits to local charities and local non-profit organizations.
SCHEELS is a 30-store operation with stores in 13 states including North Dakota, Illinois, Iowa, Minnesota, South Dakota, Montana, Wisconsin, Nebraska, Nevada, Utah, Kansas, Colorado, and Texas. The store that opened in 2020 in The Colony, Texas is the World's Largest All Sports Store. In 1902, Frederick A. Scheel founded SCHEELS as a general merchandise and hardware store in Sabin, Minnesota. Today, Steve D. Scheel, the great-grandson of SCHEELS' founder, is the company's Chairman of the Board, and great-great-grandson Steve M. Scheel is CEO. Todd Anderson serves as President and oversees SCHEELS' daily operations of more than 8,500 associates.
---