A Seasonal Favorite You Don't Want To Miss!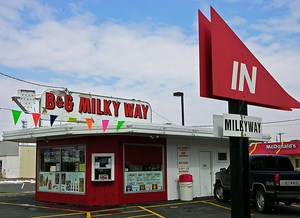 At B & G Milkyway, our mission is to provide the best product, served by the best employees, at the best possible price, to create an atmosphere of yesteryear, to maintain an environment in which families and friends can meet and enjoy their favorite treats as well as the company of others, and to greet each customer with a smile and spread that smile to all of our customers.
The first B & G Milkyway opened in 1954. This old-fashioned drive-in was opened at 2410 W. 12th St. in Sioux Falls, and the original restaurant is still in operation today. You will see what your grandparents saw when they went to get ice cream years ago – simple red and white buildings displaying signs of delicious treats.
The original menu offered hotdogs and an assortment of ice cream. Over the years, the menu has changed only slightly, adding popular items such as slushwhips, BBQ beef and sloppy joes. What has remained constant is the delicious soft-serve ice cream and mouth-watering footlongs. Our most popular item is our home-made strawberry ice cream.
We have always had a policy of being "hands-on" owners. We opened our first franchise in the year 2000 at 730 S. Sycamore Ave., Sioux Falls. This expansion allowed a separate owner to operate their own B & G Milkyway while insuring our customers the quality service provided by a "hands-on" owner. There are now four locations in Sioux Falls and one in Tea, open from late spring to early fall.
Our locations are locally owned by people active in the community. We help support many organizations, are Christian based, and are proud to serve each customer with a smile.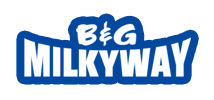 ---