We Make It All...Better!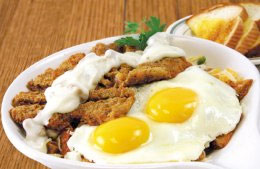 Looking for flavor-filled, mouth watering meals and hand crafted comfort foods? Then you need to head on over to Marlin's Family Restaurant. Whether you're hankering for breakfast, lunch or supper, we're known around the area for our generous portions, served up with a huge dose of friendly hospitality, seven days a week.
Our relaxed, inviting and comfortable atmosphere and welcoming décor add to your family-friendly dining experience, and, you're gonna love our prices, too. Stop by soon and join our growing number of satisfied customers, who we consider friends.
Morning, Noon, Night, or any time in between, you're gonna love Marlin's wide selection of mouth-watering food. Our menu is designed to satisfy any and all tastes, with delectable dishes that are generous in portion and priced right.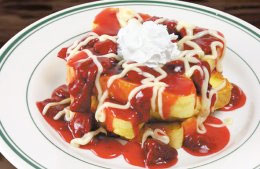 When we say "family," we mean it. One visit to Marlin's Family Restaurant, we're confident Marlin's will become your entire family's favorite dining destination. Marlin's works hard to make every member of your family happy and satisfied, especially the little nippers! Our kid's menu is chok-ful of the great foods that kids love... from boneless chicken chunks, grilled cheese and mac-n-cheese, to funnel cakes, bacon and french toast! Oh yeah... we serve breakfast any time of day, so whenever pancakes are "mandatory", just swing in to Marlin's and we'll take care of you.
Plus, there's a free toy with every kid's meal, and kids have great time collecting each set! And... don't forget to have the kids sign up for the Marlin's Kids Club to recieve special prizes and surprises!
If you're in a hurry, on the road, or just want to enjoy Marlin's home cooked meals in the comfort of your own home, we make it easy, with absolutely everything on our menu available to go! Just give us around a 20 minute heads up, and we'll have it ready and waiting for you.
Marlin's…now that's good.
---