Specialists In Outdoor Living Environments Since 1979
Oakridge Nursery and Landscaping, Inc., is a professional landscape design and installation company. We only employ the finest designers with several years of experience in the landscape design field. All of our designers are South Dakota Certified Nurserymen. We consistently deliver unique and functional solutions for your outdoor living space. Our certified team of designers truly are specialists in outdoor living environments.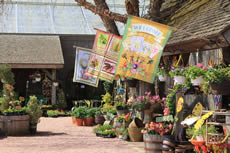 Oakridge has a complete retail garden center with over 700 varieties of shade, ornamental and fruit trees, shrubs, evergreens, perennials, annuals and products to keep your outdoor environment healthy.
Oakridge also has a new wine bar on site that features local South Dakota wines. Wine tastings are held weekly at the nursery and include samples from Schadé, Strawbale and more. Bottles are available for purchase in the wine room along with a variety of wine-inspired gifts.
Let our SDLNA award-winning designers help you to accent your home and architecture by using landscape lighting, creating water features, paver sidewalks and patios, retaining walls and many other functional pieces that add to the aesthetics and value of your home.
Our design philosophy is: To view landscape design as the development of outdoor space for the use and enjoyment of people. Create landscaping to compliment the building and architecture. Emphasize a low maintenance approach. Achieve a year round design effect stressing evergreen plants, seasonal bloom, fall colors and attractive fruits.
---