Broad Inventory and Competitive Prices Found at Karl's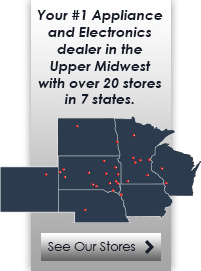 Why choose Karl's TV . AUDIO . APPLIANCES . FURNITURE?
In 1956, when Elmer Karl opened the first Karl's TV in Gregory, South Dakota, televisions were just making their way into households, customers expected great service and businesses stood behind the products they sold because it was the right thing to do.

Since then many things have changed but at Karl's our commitment to exceptional customer service and satisfaction has remained the same. Karl's was founded on these easy to say, yet tough to deliver on principles. It is our commitment to these principles that allows us to grow and remain competitive year after year. At Karl's we value every customer and community we serve. Since those early days, Karl's has grown significantly.

Today, Karl's offers the regions broadest inventory of in-stock name brand TVs and appliances. In addition, you will find a comfortable selection of seating and an exclusive line of mattresses. Karl's now has over 20 locations in 7 states. Through our expansive buying group relationships we are able to be priced competitively on a daily basis. The kicker at Karl's is simple: We truly service what we sell with our own dedicated staff of technicians, who are equipped to get the job done right. After being in business for over 50 years, we here at Karl's know what is most important to us and that is YOU!
---