Howe Offers Old-Fashioned Service And Up-To-Date Technology
Now in its fourth generation, Howe, Inc. is proud of our longevity and stability. We're also proud that we've carried over some of the values and qualities of the 1940s into today.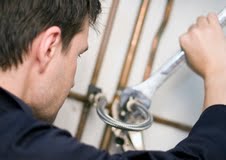 But not everything at Howe is old-fashioned. We sell and service state-of-the-art plumbing, heating and air conditioning equipment and we're up to date on all the latest training and product innovations. Our technicians are professional and experienced, and are on call and ready to help you when emergencies happen.
To prevent those emergencies, ask us about our Peace of Mind Home Inspections. Our technicians will inspect your home's plumbing, furnace, air conditioner and underground sprinklers. A Peace of Mind Home Inspection will help add life to your plumbing, heating and AC air conditioning system – and they help ensure the safety and well-being of your family and your home.
We're also experts in green plumbing and heating trends. We'll analyze your home's unique needs and recommend an efficient green strategy for heating and air conditioning. Just a few easy updates, such as programmable thermostats and proper ducts, can make your home more energy efficient, and save heating and cooling dollars. Howe Inc. is a proud sponsor of the Sioux Falls Green Project.
Call us at 339-2020 to schedule your Howe Certified Green Home Inspection today and start saving!
What the Locals are saying:
"Mike was very responsive when we called with concerns of a gas leak. He quickly located the problem and fixed the issue. Highly recommend! Thanks Mike!" - Whitney L.
"They were able to get us on their schedule very timely. We needed a new AC unit and also installed a new Furnace. Everyone who worked on the project was courteous and they explained everything that was going to be done from start to finish." - Chris R.
"Called on a Friday and a Howe employee was at my house within 2 hours. Great service! Would definitely recommend!" - Elizabeth K.
---