Lone Oak Lawn Care's Axiom — customers first, employees second
by Lone Oak Lawn Care Founder Bruce Langhoff
In 1975, I graduated from the University of Wisconsin – Madison with a B.S. degree in agronomy and started work with the original Chem-Lawn Corporation in Milwaukee. In those years the company was still controlled by founder Dick Duke and his father Paul. Dick's philosophy was simple:
"Take care of the customers first, the employees second and the profits will take care of themselves."
We worked hard, but branch manager Don Brane constantly preached service first, production second. We sold only what the customer needed, did some direct mail but never tele-marketed, gave excellent service and our customers grew the company with word-of-mouth. Dick died unexpectedly in the late 1970s and the family had to sell stock to pay estate taxes. "New York investors" brought in modern management ideas such as constant tele-marketing, gigantic under-staffed routes and curing every lawn problem with an expensive up-sell. By the mid 1980s the company wasn't much fun to work for (today it no longer exists) and I went on to more glamorous jobs in sales, investment banking and lending; eventually ending up in Sioux Falls.​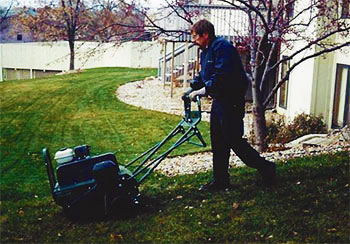 I enjoyed physical activity and realized how much I missed being outdoors and helping homeowners with their lawns so in the winter of 1999-2000 I founded Lone Oak Lawn Care. I have shamelessly copied Dick Duke's motto and business methods from the 1970's and with God's help the company has prospered.
Today, owner/manager Brandon Crooks who has been with the company since 2011 carries on the company values of customer service and integrity.
Our custom granular fertilizer program with slow release in every application is the best available. Our weed control program gives excellent results while at the same time limiting the amount of product used. We strive to educate our customers with notes and detailed handouts. We are full time licensed and insured professionals and encourage customers to call if there is a question or concern.