South Dakota's Premier Entertainment and Gaming Destination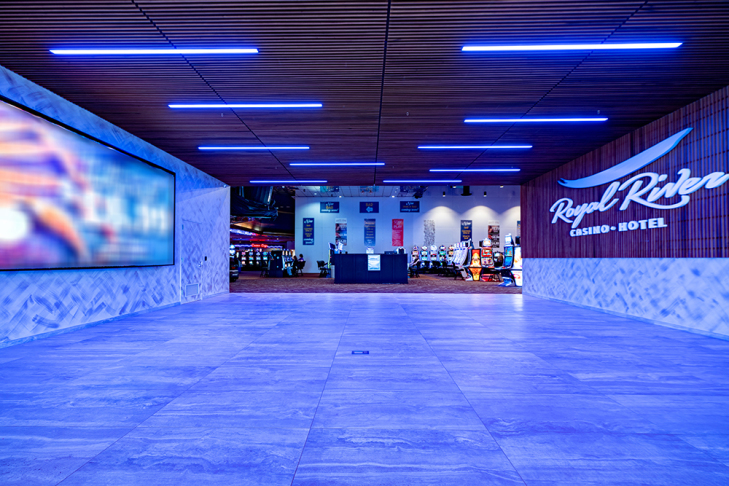 Since opening our doors in 1990, Royal River Casino & Hotel continues to be the preferred entertainment destination for excitement seekers in southeast South Dakota, southwest Minnesota, northwest Iowa and across the upper Midwest. Located just 35 minutes north of Sioux Falls, SD, Royal River Casino & Hotel fulfills every entertainment and relaxation need with the hottest casino filled with the loosest slots, highest payouts, live card games, two restaurants offering a delicious variety of menu items and full buffet; soothing hotel rooms, and the best in events and entertainment – every day!
The Flandreau Santee Sioux Tribe is comprised primarily of descendants of "Mdewakantonwan", a member of the Isanti division of the Great Sioux Nation, and refer to themselves as Dakota, which means friend or ally. The Flandreau Santee Sioux Indian Reservation is 5,000 acres of combined trust and fee tribal land located along and near the Big Sioux River in Moody County, South Dakota, in a region known as the Prairie Coteau, which consists primarily of undulating or gently rolling land.
Our gaming floor is the perfect place for you and your friends to escape from your day to day routines. Our live card game tables are the perfect place to relax and unwind or you can enjoy many of our sizzling Las Vegas Style slot machines. Whatever you're looking for we have something to keep you entertained at Royal River Casino & Hotel, where any day can be your lucky day!
Our clean and comfortable hotel is the perfect place to relax and rejuvenate your mind, body and spirit. Our comfortable beds and pillows will ensure a restful night's sleep and our suites are truly royal, with spacious rooms and whirlpool bathtubs that are sure to relax your concerns away. The Royal River Hotel also has a swimming pool and hot tub, located next to the hotel lobby. Please note, to cancel an existing reservation you will need your reservation confirmation number.
Come TAKE THE CROWN at Royal River in Flandreau, SD.