It's What You Expect from Pierre's
In 2001 Pierre's Body Shop was purchased by Dean VanHeerde, the General Manager.
Pierre's Body Shop, Inc., has stood strong throughout the years competing with dealership repair shops and other independently owned shops. Pierre's has maintained successful direct repair program (DRP) contracts with many insurance companies and consistently has a high customer satisfaction rating, and has always maintained a fair price. How do we do it?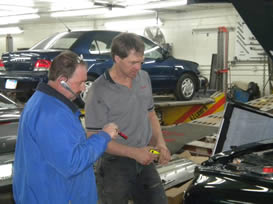 By adapting to changes in the industry. The past few years have been challenging as the industry has undergone rapid changes. You need quality employees and they come at a cost. Overhead and operating costs continue to climb. With DRP's the insurance industry regulates the cost of each repair, which has brought profit margins down. Pierre's Body Shop will not sacrifice quality repair based on price. One way we have met the new constraints of insurance companies is by being as efficient as possible. We have put in place standard operating procedures and policies to increase and maintain efficiency.
Pierre's Body Shop, Inc. has been a family owned and operated business since 1958. Our friendly professionals, expert technicians and staff will listen to your needs and help you through this difficult time with the highest quality of repairs in our industry. Our goal is to give our customers a high quality repair at a fair price in a timely fashion, with the best service in our industry. It's what you expect from Pierre's!
Why Choose Pierre's Body Shop, Inc?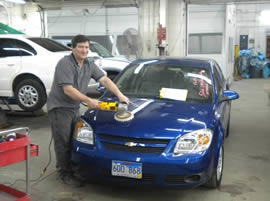 At Pierre's Body Shop, Inc. we specialize in helping the customer from start to finish. We repair all makes or models, foreign and domestic, car and pickups. At Pierre's we do more than provide a good product, we also educate the customer about the auto body repair process.
Good Relationships with Insurance Companies makes for Hassle-Free Repairs.
Pierre's Body Shop, Inc., is a direct repair facility for the following insurance companies:
State Farm Insurance
Progressive Insurance
American Family Insurance
Farm Bureau Insurance
Liberty Mutual Insurance
Written Lifetime Warranty!
Pierre's Body Shop, Inc., takes great care to ensure that every repair meets our standards for quality. The labor performed by Pierre's Body Shop, Inc., is warranteed against any defects in workmanship as determined by Pierre's even if ownership changes.
State of the Art Equipment
Frame repairs with Chief E-Z-Liner, a velocity computerized frame measuring system.
Our Garmat Paint Booth is a down-draft bake oven which returns your car's finish and durability back to or better than factory standards.
Computerized headlight aiming system assures you safe night-time driving
Environmentally safe "green" water-based paint system.
Trained Technicians
All our technicians are graduates of a 2-year comprehensive training program for collision repairs.
Our technicians are also I-Car certified and receive ongoing training.
Many of our employees have 20-plus years experience.
What our Customers Have to Say
Our motto is "Honesty, Quality, Courtesy and Care, It's What you expect from Pierre's." We communicate well with our customers, employees, and insurance companies. We give our customers confidence in our ability to restore their vehicle back to pre-accident condition. To insure this we follow up with a phone call to every customer to assure they are completely satisfied with the repair. We do ongoing customer satisfaction surveys through the PPG Certified First Network. Our survey results exceed a 95% customer satisfaction ratio.
---