Tony's Catering Makes Every Event Special, Whether Big Or Small
Tony's Catering located in Brandon, South Dakota. We can cater any size event from just 5 to 6000 people!!
At Tony's Catering we can meet your every need. From Grilled Hot Dogs and Brats to Gourmet Created Meals, Wedding Cakes and Beautiful Floral Arrangements for every occasion. Let us help make your next event special. Your satisfaction is our goal!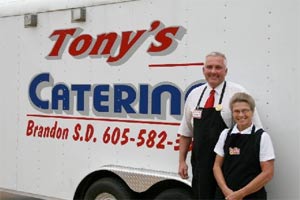 We specialize in:
• Grilled Carved Pork Loin
• 1 3/4" Pork Chops
• Prime Rib
• Broasted Chicken
• Rib Eye Steaks
The History of Tony's Catering
In 1982, a close friend came to Tony Bosch and told him that a large Midwestern chain had backed out of catering his daughter's wedding at the last minute because they had a bigger catering job. The friend asked Tony for his help. Tony pulled the job off to everybody's delight, and as a result, Tony's Catering was born.
Today we cater nearly every day of the year and have grown the business into one of the largest catering operations in the Midwest. Tony currently owns 15 catering vans and has catered events from as small as six people to as large as 6,500 people.
Let us help make your next event special. We look forward to serving you!
We are looking forward to hearing from you. Our e-mail address is tonys-catering@hotmail.com
Please visit our Facebook page and "like" us to get all the updates!
---