How it all Started
Famous Dave understands what it's like when the odds are against you. A Native American kid at the bottom half of his high school class, he didn't have a whole lot of opportunities, but he had dreams and perseverance. His goal: create the best BBQ America ever tasted.
BBQ was a passion he caught from his dad, a Southerner working the construction. They always knew where to find the best ribs: the street-corner vendors with their 55 gallon smokers, cooking it up in the tradition of the deep South. After years of learning all he could about BBQ, he opened the first Famous Dave's in Hayward, WI in 1994, quickly gaining great popularity.
A 50 year obsession with one purpose: To delight Guests with the most enjoyable and authentic BBQ experience possible.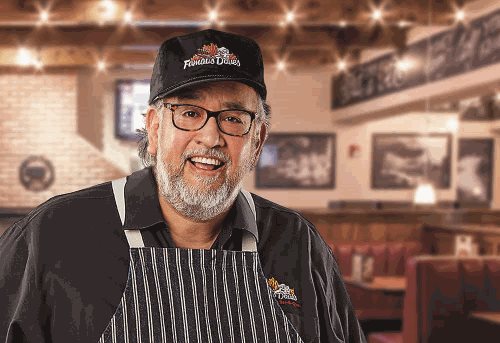 Famous Dave is the real deal
Our champion Pitmaster, "Famous" Dave Anderson has won some of the most coveted BBQ awards in the nation. He's a BBQ encyclopedia, a man who has spent his life in pursuit of BBQ perfection. He has read nearly every book written on BBQ and honed his craft on every pit, grill, and smoker imaginable. He's traveled all over the country, learning everything there is to know about BBQ, on a lifelong quest for the best.
Over 700 Awards and Counting!
"Famous" Dave Anderson has earned over 700 awards and has since become an authority in the BBQ world. It's no wonder Famous Dave's is often called "America's Best BBQ."
---
Best Damn BBQ Around! Come on down and see us! Have a graduation, summer party or just have a hankering for BBQ? We can help!
Come join our backyard bbq or Give us a call at 334-8800!
---