Customized Recycling Services
From Lake and Lincoln County, to McCook, Minnehaha and Turner Counties, Novak Sanitary Service is well known as a reliable, affordable, energy-conscious and environmentally minded South Dakota Trash & Recycling company. Novak provides residential and commercial garbage collection services, commercial and residential South Dakota recycling programs and construction waste removal. We also provide highly secure paper shredding and document shredding services.
With the reliability of a major nationwide waste management company and the local knowledge and community pride you need from your waste management company, Novak makes it easy for customers to keep our community clean. We also make it easy to pay your Novak Sanitary Service trash & recycling bill with your Visa or MasterCard using our free online bill pay service.

Customers have chosen Novak since 1965, because they …
Make Southeast South Dakota recycling easy for residents, businesses & events
Employ, train and compensate quality and safety-conscious waste management employees
Safely and efficiently deploy their waste management company employees and equipment
Offer LIVE customer support by people who live, work and play locally
Actively support the South Dakota communities they serve in Lincoln, McCook, Minnehaha and Turner Counties
As the premier waste management company of greater Sioux Falls, sustainability is not a new concept for Novak Sanitary. Over the years Novak has partnered with customers to recycle a significant portion of the waste stream. Their residential and commercial recycling efforts recover valuable materials and reduce energy usage.
Most recently, 74% of the construction waste from the Denny Sanford Premier Center was diverted from the landfill and recycled. And in 2014, their Dakota Data Shred division shipped 7.5 million pounds of securely shredded documents to pulp mills for recycling saving 562,485 gallons of gas.
In addition to SE South Dakota recycling and recovery, Novak deploys route optimization software to provide timely service to customers and to reduce fuel consumption and emissions, and thereby lowering their carbon footprint.
With an eye towards the future, Novak Sanitary Service of Southeast South Dakota constantly monitors and evaluates new technologies and programs that can enhance their commitment to the environment and improve their customer service.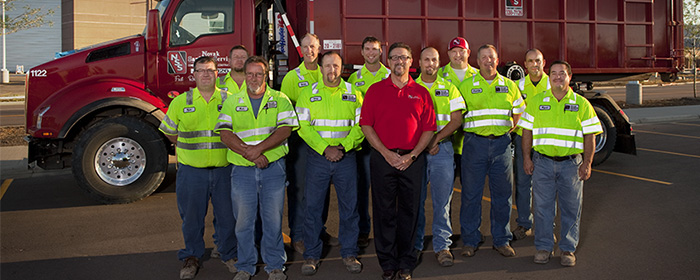 ---