Hy-Vee promotes a healthy lifestyle with services and products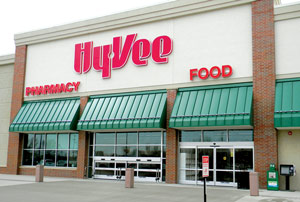 Mission Statement
Making lives easier, healthier, happier.
The Hy-Vee Story
Hy-Vee is a touchstone for Midwest consumers' desire for information on diet, nutrition and wellness topics. HealthMarket departments featuring natural and organic products; the consulting services of in-store dietitians; the NuVal Nutritional Scoring System; consumer and employee wellness programs; and the Hy-Vee Triathlon underscore the company's commitment to healthy lifestyles.
Our corporate office is located in West Des Moines, Iowa. The Hy-Vee campus includes a 12,000-square-foot conference center for meetings, training and continuing education programs.
Our distribution operations are based in Chariton, Iowa, where we have more than 1.5 million square feet of state-of-the-art warehouse space. Another large distribution center, encompassing 650,000 square feet of space for dry food products and general merc, is located in Cherokee, Iowa.
With sales of more than $6.9 billion and more than 232 retail stores across eight Midwestern states, Hy-Vee ranks among the top 20 supermarket chains and the top 50 private companies in the United States. Supermarket News, the authoritative voice of the food industry, has honored the company with a Whole Health Enterprise Award for its leadership in providing services and programs that promote a healthy lifestyle.
Don't forget to check out your favorite Hy-Vee on Facebook!

---