WE CAN PUT YOUR BUSINESS NAME ON ANYTHING!
Need Decals, Signs or Banners?
RELY ON A FULL-SERVICE PRINT SHOP IN SIOUX FALLS, SD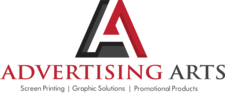 Our owners bought this business in October 2016, but we have many decades of printing experience under our belts. Since 1949, we've been printing quality designs for "anything with your name on it." We offer Apparel, promotional items, digital prints, signs, banners, posters, vehicle decals/wraps, apper products, and a whole lot more. Browse our website to find out about the many ways Advertising Arts Inc. in Sioux Falls, SD can help with your promotional advertising.
Not a customer of Advertising Arts yet?
We can be your one-stop shop for printing, graphic design, posters, business cards, vehicle decals/wraps, apparel, promotional items etc. We can put your name on ANYTHING! Let us impress you with our exceptional quality, quick turnaround and outstanding service. We offer free estimates because we know are prices are much lower than average. Call us for a quote and see how Advertising Arts can simplify your life by being the one-stop print shop!"We have always done it this way" - are the 7 most expensive words in business.
We out-hustle the competition
We have digital printing capabilities, so we can do everything in-house and give you lower prices on the finished products. Our turnaround times are quick because we have control over the whole process. We're your one-stop-shop for:
Promotional items
Corporate items
Trade show booth items
Vehicle decals/wraps
Static clings
Banner prints
Poster prints
Apparel
Paper products
And that's far from the full list. You name it, and we can do it. Let us know what you want printed, give us your quantity and size requirements, and we'll take it from there. Contact us today for top-of-the-line printing in Sioux Falls, SD.
---