If You Haven't Been to Bob's, You Haven't Been to Sioux Falls
Originally called the "Pickle Palace," the Bob's building was built in 1944 from lumber recovered from a building destroyed by fire which was located in downtown Sioux Falls.
The Pickle Palace was a summertime burger joint, located way out west of town on the dirt road which at the time was called Hwy 38. The original owners sold the property to Ray Starkes and he renamed it to Ray's Drive Inn.
One night in the late '40s, Bob Lyons walked in after getting off work from his manager's job at the "Nickel Plate" located at 11th and Main in Sioux Falls. Ray's night manager had just walked off the job, and Ray asked Bob if he was looking for a job. They worked out the details and Bob Lyons became the night manager of Ray's Drive Inn.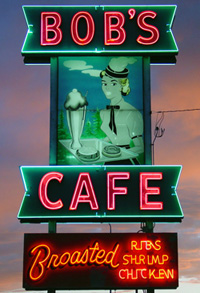 In 1951 Ray decided to get out of the business, making it possible for Bob to purchase the property. He renamed it from Ray's Drive Inn to Bob's Cafe. During the mid '50s, Bob had Ace Signs put up the Bob's Cafe sign; it became the main fixed lighted point before the airport. Pilots used the Bob's sign as a focal point for lining up for their landing at the Sioux Falls airport.
Bob met a young lady by the name of Ima at Bob's Cafe. They soon became husband and wife and together the Lyons family operated Bob's Cafe for 50 years, closing its doors in September of 2000. Until the early '70s it was open 24 hours a day and had curbside service (car hops).
Around 1990, Bob closed on Sundays and by the year 2000 there were times the store was closed for a week at a time. Ben Weiland was working at Hutchinson Technologies at the time and he could foresee his layoff 6 months to a 1 year ahead. Not wanting to attempt finding a new job at the age of 47, he decided to purchase the business. His family supported his decision, and Bob's Carry Out & Delivery opened for business on Oct 12, 2000.
Our chicken is Incomparable!

---