There's A Treasure In Here For Everyone!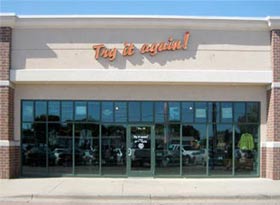 Try It Again is locally owned and operated by Laurie Barse, who opened the store in 1996. The success of the 3,500 square-foot store at 2101 W. 41st Street has encouraged over 10,000 local area consigners to bring their gently used clothing, jewelry, accessories, and shoes to sell for a profit.
Each item in our store is hand selected to make sure it is suitable for reuse and meets our quality and cleanliness standards. When you shop our store, you'll love the quality, assortment and prices!
Our philosophy is simple: Provide a warm, inviting and comfortable place to shop, and quality items at great prices. Stop by to see the great bargains we have in our store each day.
---