Shop where the dealers shop...
I-29 Antiques & Collectibles Mall has over 14,000 square feet and over 100 of the area's finest dealers, featuring items such as toys, furniture, signs, well pumps, tokens, pictures, jewelry and glassware, and featuring Hall - McCoy - Fiesta - Redwing!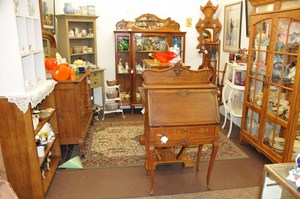 We are the region's largest and oldest antiques and collectibles mall, located just 1/4 miles west off the I-29 & Tea exit, and we're open 7 days a week! People from all over stop to check out our large inventory, and it's been fun to meet people who make our store a destination in their travels. On one day this past summer we had cars in the parking lot from Arkansas,California, Montana and Michigan, as well as the usual South Dakota, Minnesota and Iowa, all at the same time!
 Because we have so many dealers, our inventory is always being added too. You never know what will come through the door. And as always, we thank not only our customers, but also our dealers for making I-29 Antiques & Collectibles Mall the biggest and best store in the region!
---